I have been feeling very mheh about my diet as of late.  Two days left on this Whole30 challenge!  TWO DAYS!!  I hope I'm not coming across as being a downer about the challenge, but I'm looking forward to it being over and finding a little more balance versus black and what, eat this not that.
The way my mind is connected to food is such that when you tell me I can't eat something, that's when I want it more.  However, I feel loads better when I don't have sugar coursing through my veins making me cray cray or dairy wandering through my gut making me look like I'm pregnant.
I'm just being honest here and I'm really tired of telling myself no because it makes the urge to binge eat a lot stronger.  Having removed the sugar from my diet has helped immensely though.  And now I'm just talking in circles.  Only two more days though that you have to put up with my whining about this.  You're welcome.
Let's get on with this What I ate Wednesday and get the show on the road!  See more WIAW posts by visiting the hostess with the mostest, Jenn at Peas and Crayons.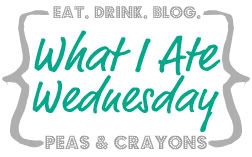 Breakfast
– not proud of my choices here today.  I had four slices of bacon, and Pecan Pie Lara Bar, and 5 large strawberries with my black coffee.  Not impressed.  There's no picture to prove it either but would I lie about an imperfect breakfast?
Lunch – I ate some leftover steak and Brussels sprouts along with some more strawberries.  I'm over steak…which is a good thing since there are healthier sources of protein out there.  I've just been lazy and the boy does like his beef.  (He likes to tease his mother and aunts by threatening to take McDonald's hamburgers into the Sikh temples, sneaking them in to a wedding ceremony.) *Sigh, that boy.
Dinner – Finally!  Something other than beef!  Roasted chicken breast with a slew of veggies that needed to be used up before they went bad.
So to conclude, TWO MORE DAYS!  Would I recommend  a Whole30 challenge?  Yes, of course.  But might I suggest you try it for the first time during the summer when there is a wider variety of fruits and vegetables?  Also, a grill makes everything taste better!