The credit for the title of this What I Ate Wednesday Tuesday post goes to my husband.  He didn't even want me to post the picture of my dinner.  The credit for the ugly goes comPLETly to me.  In a nutshell, I was in a hurry all day and the good I grabbed was purely for fuel and not for looks.  Sucks for you that it was the day I would photograph my food for you!
I'm linking up today for What I Ate Ugly Wednesday with Jenn at Peas and Crayons. She doesn't eat ugly from what I've seen, so you definitely should go check her blog out!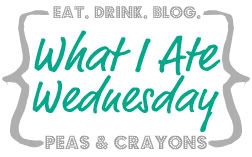 Egg Muffins for the win for breakfast.  Quick, pulled out of the freezer, and ready to go in two minutes.
Fridge dump lunch – a leftover hamburger patty, green beans, bell pepper, hummus and strawberries.  Basically, I cleaned out the fridge on to my lunch plate.  Mheh.  It worked.
A delicious, but oh so ugly dinner. A chicken breast, and a sweet potato topped with sun butter.
If you made it through this post without gouging your eyeballs out, then I have a treat for you!  I posted this recipe yesterday for my Cheesy Jalapeno & Ale Dip.  Let me be humble and just say that you really do need to check this recipe out, make it, and then invite all your friends over.  They will love you forever.
Go now!
What is your favorite, ugly food combination?